3 steps to creating your own stock tank pool oasis!
Step 1: Pick your location
Flat & Level No matter where you put your pool, you'll need two things for its location: 1) it should be flat: free of rocks, roots, and humps, and 2) the location should be level (minimal or no slope). Many owners already have a spot in their yard that fits this requirement, but double-check with a construction level and visual inspection first.
Consider shading! Metal is an excellent thermal conductor, so stock tank pools can be susceptible to large temperature swings, especially in direct sun. So shading can be an important factor when selecting a location for your pool. The best way to check is go outside around 1:00 PM and find where the shade is in your yard, whether east of your home or adjacent to trees. If you live in a warm climate, that's where you'll get the most shade and relief from the heat. Alternately, consider an umbrella!
Decks If you're placing it on a deck, be VERY careful about weight. An 8' stock tank weighs as much as a Suburban when filled, so be sure the structure can hold it.
Other amenities Lastly, consider if you'll add steps or a ladder, a deck, or other landscaping around the pool. Be sure to account for room around the pool.
Step 2: Pick your size and shape
Round or oval? There are two shapes of stock tanks. The round shape is better for multiple people and kids, allowing room to spread out. Oval stock tanks are long and skinny, so they're better suited for one or two people.
Round sizes The largest of the stock tanks, round shapes come in two sizes (These tanks have 2' tall sides):
8' diameter (The Big Kahuna) is the most popular for families - the 8' tank can accommodate up to 4 adults or 5 children

6' diameter (The Watering Hole) is good for couples or small families - the 6' tank can hold two adults easily

Note: there are other sizes up to 10' but these two are the most common
Oval sizes have more sizes to choose from, but we recommend three:
3' x 8' (2' tall) this is the largest oval tank. It can hold up to two adults, or one comfortably. Bonus: it has room for your air mattress!

2' x 6' (2' tall) holds one adult comfortably or two kids. It's just long enough to "stretch out" but is best for sitting

2' x 4' (2' tall) this is the $99 that gets you started for about the cost of a grocery run! It's compact, so we dubbed it the "tiny home" of stock tank pools. It gets the job done!
Check out one of the kits!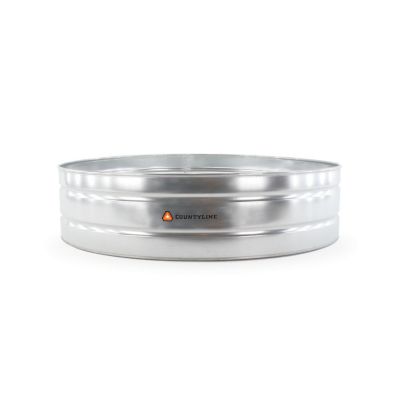 CountyLine Galvanized Round Stock tank; 8 ...
Note: trim this square cover to fit round tank.
Step 3: To drain or maintain?
The last step is to consider whether you'll drain or maintain the water in your stock tank pool. Stock tank pools are great when they're clean and clear. They're not so great when murky, grimy, and full of debris, so don't forget that stock tank pools require maintenance and upkeep. The two options are:
Drain
The simplest method is to drain the water from your pool after several days then refill when you'd like use it again. This is probably the easiest method and lowest maintenance, but requires more water. Depending on your climate and temperature, a filling can last a few days before it gets too much of "the funk." Be sure that your tank has a way to drain: most tanks include a built-in drain plug. You may want to consider a utility pump with suction attachment to remove water down to 1/8-inch. When you're not using your tank, be sure to turn your stock tank upside down to prevent standing water! Even a small amount of water can grow a nasty film if left unattended.
Or Maintain?
The other option is to fill the tank once then add a simple filtration / skimmer system and traditional pool chemicals once a week. Stock tank pools are much smaller than traditional pools, so pool chemicals and filters last longer, saving you costs. The Amazon kit below includes chemicals, pump, and spare filters for under $100!
The Intex filter pump is an excellent way to keep your stock tank pool clean and clear by physically removing dirt and debris. The easiest way is to "drape and tape" the hoses over the side, but in the near future, we'll post a "how to" video on installing integrated inlet and outlet hoses like the image above.
Maintaining your water? Buy this kit!
For under $100, this kit will keep your stock tank pool looking clean and clear all summer! Warm, still water tends to grow yucky things like algae and bugs, leading to scum build up. The water treatment startup kit prevents algae and bugs from growing. Plan to add chemicals and "shock" about once a week. Meanwhile, a combo filter pump will circulate the water while removing dirt and debris. You'll need to replace the filter about once a month.