Room for two and ready for fun. Just $270 to start. This stock tank pool is a great size.
Easily managed and perfect for the backyard, the "Watering Hole" accommodates 2 easily, and 3 when the party gets "lit." The 6' size is easy to haul with your friends' pickup, for which they'll have a "forever" pass to your aquatic oasis. For the "rustic" look, we recommend Tractor Supply's 6' x 2' galvanized tub. Their tank includes a 1" drain plug so you can let the water out at the end of a fun weekend and not have to worry about "the funk" taking over your pool during the week. To keep the fun going all summer, just add a pump and pool treatment kit for $100 (see step 2) to last all summer!
Dimensions
Shape: Round
Material: Galvanized Metal (Zinc coated)
Size:
6' diameter
2' tall
390 gallons
Holds up to:
3 adults
4 kids
1 six foot air mattress
Get started!
To help you get started, we've curated a list of supplies for your stock tank pool. When you shop through the links provided here, you're supporting StockTankPools through the affiliate marketing programs of Amazon and Tractor Supply. Thank you for your support!
Step 1: The stock tank
For $270, start with the 6' stock tank from Tractor Supply and your garden hose. This tank features a 1" drain plug, for easy emptying. If you purchase one without a drain plug, we recommend a drain pump with suction attachment from Amazon to drain up to 1/8" (see under accessories).
Step 2: The equipment
To keep your pool looking clean and feeling fresh all summer, add the filter pump, skimmer, water treatment, and spare filters for about $100.
Intex Filter Pump: Amazon

Skimmer for Intex Pump: Amazon

Water Treatment Start-up kit: Amazon

Replacement Filters: Amazon
Step 3: Bonus Accessories FTW!
Add a shade umbrella, string lights, tiki torches, fluid, the surface skimmer, or a separate drain pump.
11' Cantilever Umbrella: Amazon

String Lights 25': Amazon

Tiki Torches: Amazon

Tiki Torch Fluid: Amazon

Drain pump: Amazon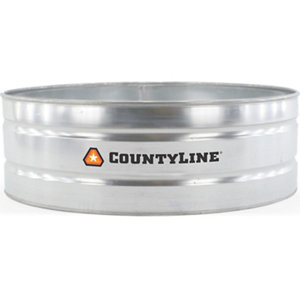 Stock tank: 6' round x 2' tall
Safety
NEVER LEAVE CHILDREN UNATTENDED IN A POOL. Pools present a drowning risk, no matter their size or depth. Children should never be left unattended in a pool, whether stock tanks or not. Even though a stock tank is 2' shallow it still presents a drowning and safety hazard. Children and adults can drown in as little 6" of water. It is up to you evaluate whether a pool, stock tank or not, is safe for you and your family. And just for good measure, we'll say it again NEVER LEAVE CHILDREN UNATTENDED IN A POOL.
Disclaimer
You assume all responsibility for your stock tank pool. By using this site, you agree to hold StockTankPool.net harmless from any loss or damage including without limitation, indirect or consequential loss or damage, or any loss or damage whatsoever arising from general use. The information contained in this website is for general information purposes only. The information is provided by StockTankPool.net and while we strive to keep the information up to date and correct, we make no representations or warranties of any kind, express or implied, about the safety, completeness, accuracy, reliability, suitability or availability with respect to the website or the information, products, services, or related graphics contained on the website for any purpose. Any reliance you place on such information is therefore strictly at your own risk.